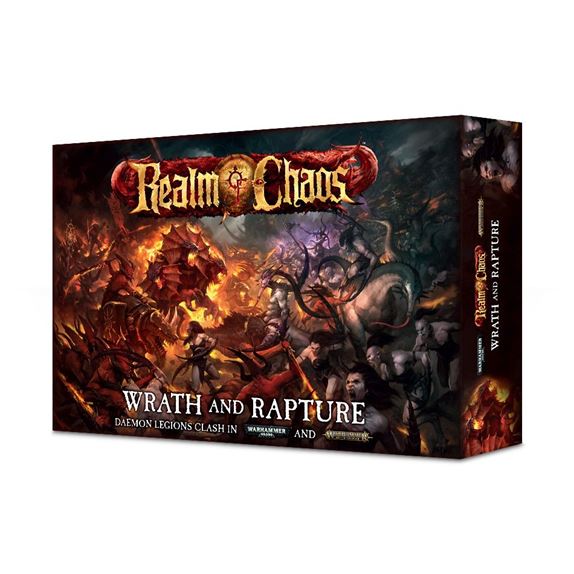 Wrath and Rapture
---
Forces Of Chaos
Here's what you'll find in the set: 38 Citadel Miniatures, including the following: Daemons of Khorne 1x Karanak, the Hound… Read More
Availability: Coming soon!
Features
38 Citadel miniatures including four brand-new plastic Daemon units exclusive to this box at launch
3 booklets include background and rules for all of the miniatures in Warhammer Age of Sigmar and Warhammer 40,000
Comes with handy sheet of card tokens, including themed wound markers for the Khornate and Slaaneshi units
Here's what you'll find in the set:
38 Citadel Miniatures, including the following:
Daemons of Khorne
1x Karanak, the Hound of Khorne
10x Bloodletters
3x Bloodcrushers
5x Flesh Hounds
Daemons of Slaanesh
1x Infernal Enrapturess
10x Daemonettes
3x Fiends of Slaanesh
5x Seekers of Slaanesh
A 24-page Wrath and Rapture booklet, describing the endless and ever-shifting dimension utterly devoid of reason and logic that is the Realm of Chaos (if such a thing is even possible). The concept of the Great Game played (and fought) between the Dark Gods is introduced, in which Khorne and Slaanesh are two of the fiercest rivals. There is an entire section of the nature of daemonic names, and there are also three tables of such names for you to generate for your Daemons.
A 24-page Denizens of the Warp booklet, which introduces tales of murderous conflicts fought between the daemonic legions of Khorne and Slaanesh in the 41st Millennium. Also included are three Echoes of War missions and a campaign to help you refight these battles, as well as Stratagems and a full set of datasheets for the models included in the box.
A 24-page Bane of the Mortal Realms booklet, describing an exciting storyline that led to bitter war between the rival Chaos powers and providing a trio of battleplans to refight them. It also includes full sets of warscrolls for all of the Khornate and Slaaneshi miniatures in the box, as well as their allegiance abilities and warscrolls, and two warscroll battalions.
A double-sided token sheet containing two 9" range rulers, a Prey of the Blood God marker (used to identify Karanak's prey), Khornate and Slaaneshi wound markers, and six numbered objective markers.
---
Delivery
Your order can be shipped to you at home or work, see shipping estimates at checkout.
In-store collection
Collection in store is available.