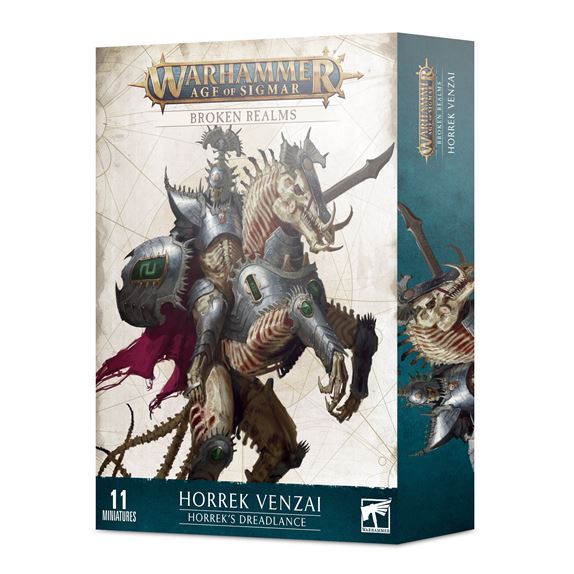 Broken Realms: Horrek's Dreadlance
---
The Kavaloi of the Ossiarch Empire are cruel beyond measure, despite their claims to a noble dynastic order as scions… Read More
Availability: Coming soon!
Features
Mangle your foes with unstoppable cavalry charges
Save money compared to getting the kits separately
A warscroll battalion in a box
The Kavaloi of the Ossiarch Empire are cruel beyond measure, despite their claims to a noble dynastic order as scions of Equuis Main. They have perfected the art of the Deathrider Wedge, smashing through the enemy in a great display of slaughter before wheeling back around to re-engage at terrifying speed.

Smash interlopers into Nagash's domain with disciplined charges of deadly Ossiarch cavalry. This warscroll battalion in a box includes two units of Kavalos Deathriders, plus a Liege-Kavalos. Combine the models in the set with the rules found in Broken Realms: Teclis and you'll be able to easily field the Horrek's Dreadlance warscroll battalion, representing Horrek Venzai's well-drilled elite cavalry. This box also saves you money compared to getting the models separately!

This set contains 10 Kavalos Deathriders miniatures, plus a Liege-Kavalos. The Liege-Kavalos can alternatively be built as Arch-Kavalos Zandtos. The kit includes a variety of weapon options and accessories.

This set is supplied in 240 plastic components and comes with 1x Citadel 80mm Round Base and 10x Citadel 60mm Oval Bases.
---
Delivery
Your order can be shipped to you at home or work, see shipping estimates at checkout.
In-store collection
Collection in store is available.