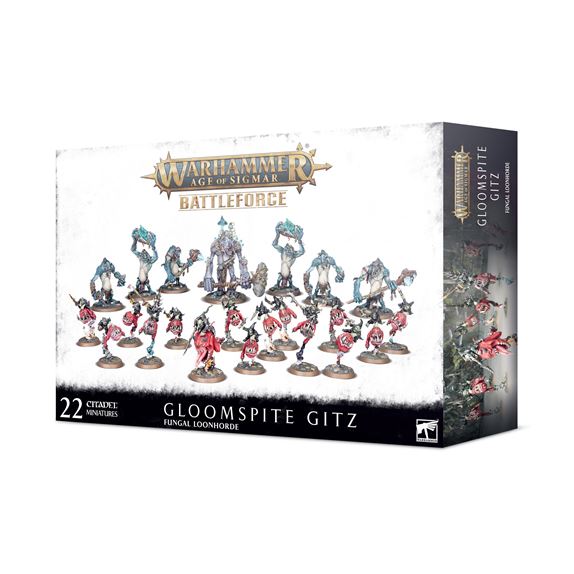 Gloomspite Gitz: Fungal Loonhorde
---
Gloomspite Gitz
Squigs or Troggoths? It's a question that every Gloomspite Gitz player has to reckon with. At last, we have the… Read More
Availability: Coming soon!
Features
A key selection of Gloomspite Gitz units
A thematic force to start or expand a collection
23 multipart plastic miniatures
Squigs or Troggoths? It's a question that every Gloomspite Gitz player has to reckon with. At last, we have the answer – both! Whatever your preferred flavour of fungal mayhem, this set has you covered, giving you everything you need to kick off or expand a Gloomspite Gitz army to shake the Mortal Realms, all for less than you'd pay getting the models separately.

This set contains:
1x Loonboss on Giant Cave Squig – the perfect commander for any squiggly force.
15x Squig Hoppers – madcap shock cavalry, also buildable as elite and armoured Boingrot Bounderz.
1x Dankhold Troggboss – a hulking commander perfect for leading fellow Troggoths into battle that can also be built as an equally punchy Dankhold Troggoth.
6x Rockgut Troggoths – nigh-invulnerable monsters capable of smashing enemies aside and taking a beating in return.

This set is supplied in 468 plastic components and comes with 1x 60mm round base, 6x 50mm round bases, 1x 40mm round base, and 15x 32mm Round bases.
---
Delivery
Your order can be shipped to you at home or work, see shipping estimates at checkout.
In-store collection
Collection in store is available.