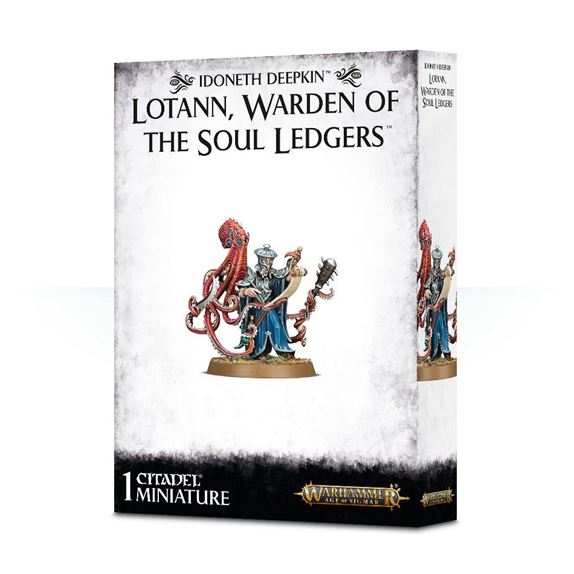 Lotann Warden of the Soul Ledgers
---
Idoneth Deepkin
This multi-part plastic kit contains the components necessary to assemble Lotann, Warden of the Soul Ledgers. Hardly concerned with the… Read More
Availability: Sorry, out of stock
Features
Tallies and tends to captured souls
Protected by his Ochtar familiar in the thick of battle
An inspiring presence, boosting the abilities of fellow Idoneth
This multi-part plastic kit contains the components necessary to assemble Lotann, Warden of the Soul Ledgers. Hardly concerned with the violence and melee going on all around him, Lotann is utterly absorbed in the Catalogue of Souls – an enormous parchment scroll clutched in his left hand, on which he tallies the Idoneth's captured souls. He uses a bone quill to do so – on occasion, he'll use this to stab an encroaching enemy, but for the most part his defense is left to his Ochtar familiar. This is a large, octopus-like creature which looms over Lotann's right shoulder, brandishing a cudgel, a serrated blade and even thoughtfully carrying a spare scroll, should the tally of souls grow too large to count.
Lotan, Warden of the Soul Ledgers comes as 8 components, and is supplied with a Citadel 40mm Round base.
---
Delivery
Your order can be shipped to you at home or work, see shipping estimates at checkout.
In-store collection
Collection in store is available.