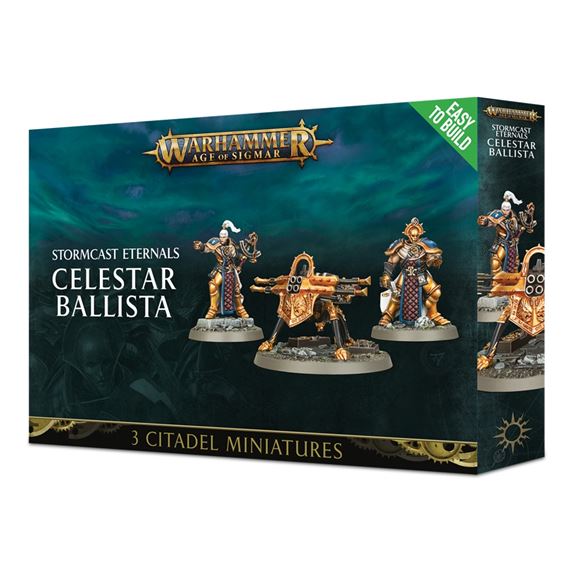 Easy to Build Celestar Ballista
---
Stormcast Eternals
Designed to be as easy as possible to assemble for new hobbyists while being detailed enough for the hardiest veteran… Read More
Availability: 5 Available for back order
Features
Heavy bolt launcher, the ammunition of which explodes with celestial force
Crewed by 2 Stormcast Eternals Sacristan Engineers, armed with sigmarite blades
3 push-fit miniatures on pre-coloured gold plastic – no glue required!
Designed to be as easy as possible to assemble for new hobbyists while being detailed enough for the hardiest veteran to appreciate, this kit assembles a Celestar Ballista, crewed by 2 Stormcast Eternals Sacristan Engineers. Push-fit, with no glue required, this kit is incredibly straightforward to put together and comes on pre-coloured gold plastic.
The Sacristan Ballista is a powerful launcher, which sits on a tripod and is attended by 2 Sacristan Engineers. The Ballista itself is aggressive and slightly spartan, effectively a large armoured crossbow. At the front are 4 barrels, which launch the runed bolts, with armour plates featuring a lion motif and inscriptions. From above, the loading mechanisms are visible – rather than firing the rather unstable energy-filled bolts directly, cartridges are used to load artillery into the ballista. The Engineers are armed with sigmarite blades, though this is not their primary equipment – they hold measuring equipment, compasses and cartridges, all used to calibrate, load and fire the Ballista. There is a helmeted Engineer and 1 unhelmeted; both feature the iconography of the Sacrosanct Chamber. Extra details for the base are included, with an ammunition box full of cartridges, and another box filled with spare instruments.
This kit comes as 17 components, and is supplied with a Stormcast Eternals transfer sheet, a Citadel 60mm Round base and 2 Citadel 40mm Round bases.
---
Delivery
Your order can be shipped to you at home or work, see shipping estimates at checkout.
In-store collection
Collection in store is available.