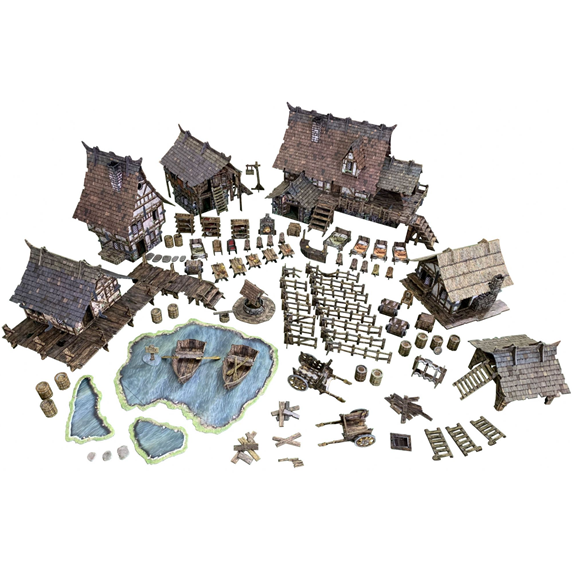 Fantasy Village
---
Fantasy Scenics
This box contains all the terrain you need for a complete gaming table in a quaint village setting, suitable for… Read More
Features
A welcome sight for adventurers and warriors alike returning from their encounters
Sometimes, however, those encounters follow them home
And urban confines provide countless places for evil to hide…
This box contains all the terrain you need for a complete gaming table in a quaint village setting, suitable for many 28-35mm fantasy and historical games. You can tightly pack the terrain into a small skirmish board or spread it out over a larger table. Many of the pieces are modular and can be assembled in any combination you choose for a different set-up every time. The roofs are removable and the buildings have fully detailed interiors.
The terrain is supplied flat-packed on high-quality, high-density card, printed in full colour on both sides, so no painting required! The terrain requires assembly, and some smaller parts will require glue. Please see our Tutorials page for more details and full instructions.
Note that all the buildings and accessories in this set are also available separately.
Contents
6 Village Buildings
1 Tavern
1 Town House
1 Storage Barn
1 Lake House
1 Thatched Cottage
1 Outbuilding
Components include:
51 Wall Panels
15 Floor Tiles
16 Roof Panels
7 Roof Ridges
17 Roof Clips
12 Gable Panels
1 Dormer
2 Dormer Roof Panels
3 Chimneys
3 Extension Beams
2 Balcony Tiles
5 Railings
1 Deck
1 Roof Frame
1 Winch
4 Support Beams
1 Storage Chest
3 Raised Walkways
15 Stilt Supports and Steps
15 Fence Sections totalling almost 48" / 120cm
1 Lake/Large Bog
2 Ponds/Small Bogs
3 Staircases
6 Ladders
1 Well
1 Baggage Cart
1 Hand Cart
2 Rowing Boats
51 Assorted Furniture Pieces
85 Assorted Scatter Components and Accessories
92 Grey Plastic Clips
---
Delivery
Your order can be shipped to you at home or work, see shipping estimates at checkout.
In-store collection
Collection in store is available.