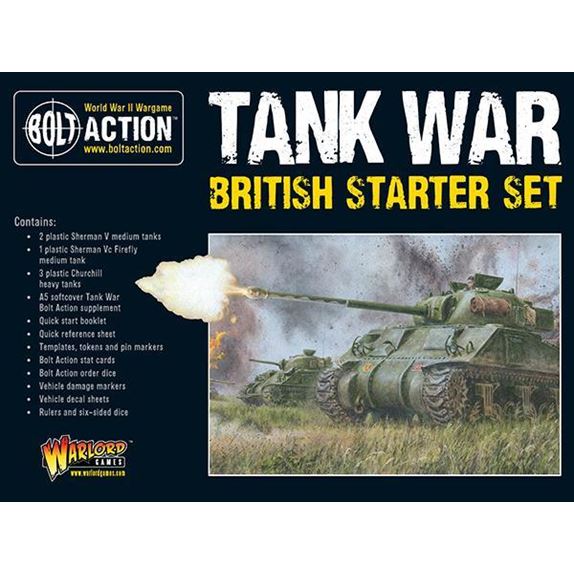 Tank War British starter set
---
Great Britain
American lend-lease allows the British to field the Sherman and British engineers improved these tanks even further, putting it's fire… Read More
Availability: Coming soon!
American lend-lease allows the British to field the Sherman and British engineers improved these tanks even further, putting it's fire power above most American versions with the Sherman V Firefly, equipped with a 17-pdr cannon which was one of the most deadly anti-tank weapons of the war, capable of tearing through the heaviest of armour.
To match the German heavy tanks toe to toe, the British created the Churchill, one of the heaviest and sturdiest Allied tanks.
This huge value starter set is full of great content, check it out:
2 Plastic Sherman V medium tanks
1 Plastic Sherman Vc Firefly medium tank
3 Plastic Churchill heavy tanks
An A5 softcover Tank War Bolt Action supplement
A quick start booklet
A quick reference sheet
A set of templates, tokens and pin markers
Bolt Action Stat cards
6 Bolt Action order dice
A set of vehicle damage markers
Vehicle decal sheets
Rulers and six-sided dice
This starter set lets you field two armoured platoons, one full of impregnable Churchill tanks which will be at the front of your line taking an enormous amount of punishment, the other provides your tank destroyer capability, with the Firefly reliably taking out any target from over 1,000 m away. Using these two platoons in conjunction with one another creates a mobile platform of deadly, precise and efficient, high-value target destroying, objective holding, break through enemy line must have units for your army!
The British version of the Sherman overcame a few shortcomings the Sherman originally had, which makes the Sherman V on the table top more efficient and deadly as a result, with the option to get rid of the 'easily catches fire' rule and another machine gun, the Sherman V is definitely a staple within the British army. Especially when paired with the Firefly, one of the most deadly tanks the British ever deployed, that super heavy anti-tank gun would rip through even a Tiger II.
The main contender that stood up to heavy German tanks, the Churchill could withstand an incredible amount of punishment with its 11+ armour. Even if it's 75mm anti-tank gun isn't as powerful as the Tiger or Panther, it still has the potential to deal with those threats whilst supporting your infantry.
Models supplied unassembled and unpainted
---
Delivery
Your order can be shipped to you at home or work, see shipping estimates at checkout.
In-store collection
Collection in store is available.