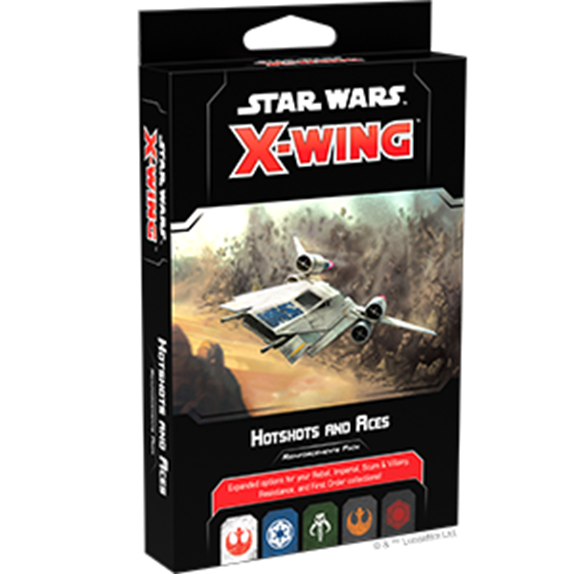 Hotshots And Aces
---
Get Started
This pack contains the following ship cards: Rebel Alliance: Gina Moonsong (A/SF-01 B-Wing) K-2SO (UT-60D U-Wing) Leia Organa (Modified YT-1300)… Read More
Availability: Coming soon!
Features
Enhance your squadron options and launch new pilots
With upgrades available to all factions and new pilots for numerous ships
This pack contains the following ship cards:
Rebel Alliance:

Gina Moonsong (A/SF-01 B-Wing)
K-2SO (UT-60D U-Wing)
Leia Organa (Modified YT-1300)
Alexsandr Kallus (VCX-100)

Galactic Empire:

Fifth Brother (TIE Advanced v1)
"Vagabond" (TIE/sk Striker)
Morna Kee (VT-49 Decimator)

Scum:

Nom Lumb (JumpMaster 5000)
G4R-GOR V/M (M3-A Interceptor)
Bossk (Z-95-AF4 Headhunter)

Resistance:

Paige Tico (MG-100 StarFortress)
Ronith Blario (RZ-2 A-Wing)
Zizi Tlo (RZ-2 A-Wing)

First Order:

Captain Phasma (TIE/sf Fighter)
Lieutenant LeHuse (TIE/sf Fighter)
"Rush" (TIE/vn Silencer)
This pack also contains the following upgrade cards:
4 Talent Upgrade Cards:
10 Force Power Upgrade Cards:

2 Brilliant Evasion
2 Foresight
2 Hate
2 Precognitive Reflexes
2 Predictive Shot

6 Tech Upgrade Cards:

2 Advanced Optics
2 Pattern Analyzer
2 Primed Thrusters

2 Sensor Upgrade Cards:
2 Cannon Upgrade Cards:
2 Torpedo Upgrade Cards:
5 Missile Upgrade Cards:

2 Mag-Pulse Warheads
2 Barrage Rockets
1 Diamond-Boron Missiles

3 Crew Upgrade Cards:
3 Gunner Upgrade Cards:
2 Illicit Upgrade Cards:
1 Title Upgrade Card:
​5 Modification Upgrade Cards:

2 Angled Deflectors 
3 Targeting Computer

2 Configuration Upgrade Cards:
---
Delivery
Your order can be shipped to you at home or work, see shipping estimates at checkout.
In-store collection
Collection in store is available.