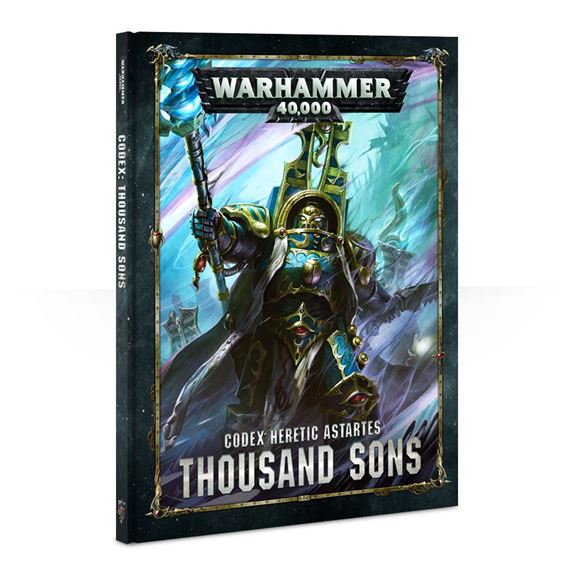 Codex: Thousand Sons
---
Thousand Sons
Everything you need to get a Thousand Sons army primed for games of Warhammer 40,000 is in here: 26 datasheets… Read More
Availability: Coming soon!
Features
The definitive book for Thousand Sons collectors
26 datasheets covering the Thousand Sons range
Stratagems, Warlord Traits, unique artefacts and more
Everything you need to get a Thousand Sons army primed for games of Warhammer 40,000 is in here:
26 datasheets providing rules for every Thousand Sons unit and miniature;
Army abilities reflecting the Thousand Sons' methods of war on the tabletop;
Points values for all miniatures, weapons and wargear for use in Matched Play games;
Sons of Magnus: rules for Battle-forged armies, including:
3 Psychic disciplines – Discipline of Change, Dark Hereticus Discipline and Tzeentch Discipline – each featuring 6 psychic powers;
22 unique Stratagems;
6 unique Warlord Traits;
Sorcerous Arcana: 13 weapons and artefacts available only to Thousand Sons;
6 unique Tactical Objectives.
---
Delivery
Your order can be shipped to you at home or work, see shipping estimates at checkout.
In-store collection
Collection in store is available.