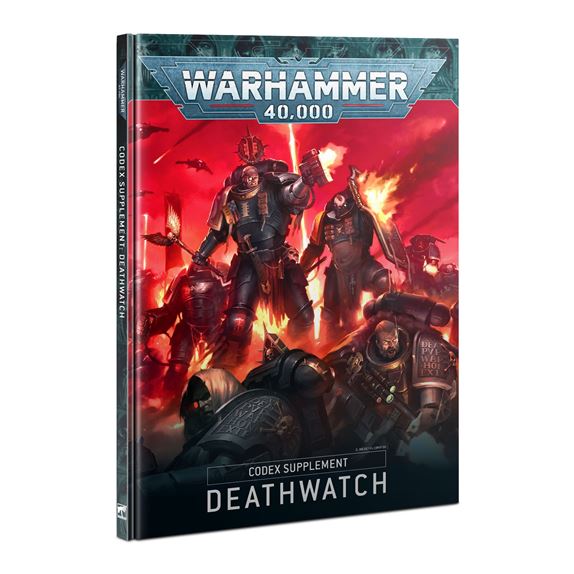 Codex: Deathwatch
---
Deathwatch
Inside this book, you'll find:- The history of the Deathwatch, with a look at how they guard the Imperium against… Read More
Availability: 5 Available for back order
Features
The definitive Deathwatch supplement for Codex: Space Marines
9 datasheets covering Space Marines units exclusively available to Deathwatch
Includes Stratagems, secondary objectives, Warlord Traits, the Xenopurge psychic discipline, Relics of the Deathwatch, bespoke Crusade rules, and more!
Inside this book, you'll find:

- The history of the Deathwatch, with a look at how they guard the Imperium against every alien threat – from without and within
- A Deathwatch bestiary with background details for every unit and Character featured
- A showcase of stunningly painted Citadel miniatures
- Rules for Space Marines units that are uniquely available to the Deathwatch
- Rules for fielding mixed units and Kill Teams with different specialisations
- Stratagems, Warlord Traits, the bespoke Xenopurge psychic discipline, Relics of the Deathwatch, and optional secondary objectives that define the ways that the Deathwatch wage war
- Bespoke Crusade rules providing new Agendas, Requisitions, Battle Traits, Honorifics, and Crusade Relics that are unique to the Deathwatch
- And more!

You will need a copy of Codex: Space Marines and the Warhammer 40,000 Core Book to use the rules included in this codex.
---
Delivery
Your order can be shipped to you at home or work, see shipping estimates at checkout.
In-store collection
Collection in store is available.