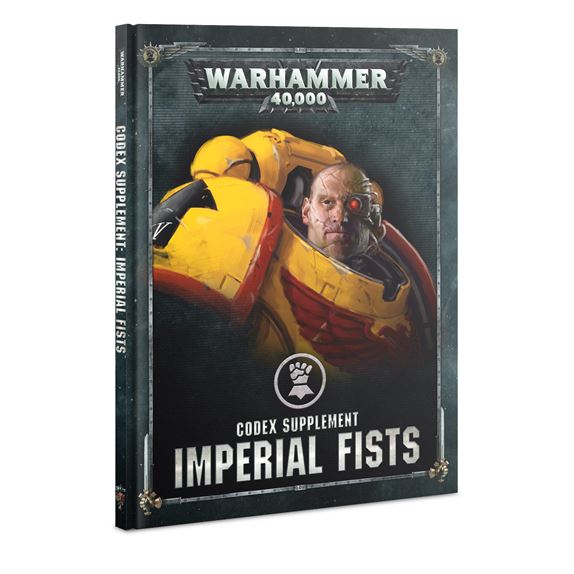 Codex: Imperial Fists
---
Imperial Fists
Inside this book, you'll find: The history of the Imperial Fists and their relentless determination to live up to the… Read More
Availability: 5 Available for back order
Features
The definitive book for Imperial Fists and Crimson Fists collectors
Bestiary and datasheets for Captains Lysander and Tor Garadon, as well as Chapter Master Pedro Kantor of the Crimson Fists
Includes Stratagems, Warlord Traits, Tactical Objectives, Relics of the Fists, the Geokinesis discipline and more!
Inside this book, you'll find:
The history of the Imperial Fists and their relentless determination to live up to the exacting standards of their Primarch, Rogal Dorn
A detailed description of Chapter organisation and iconography
An Imperial Fists bestiary with a detailed background for Captain Darnath Lysander of the 1st Company and Captain Tor Garadon of the 3rd Company
Key background information on the Crimson Fists – the legendary successor Chapter of the Imperial Fists – and a bestiary of Pedro Kantor, their valiant Chapter Master
A showcase of stunningly painted Citadel miniatures
Rules for Captain Lysander, Captain Garadon and Chapter Master Pedro Kantor
Stratagems, Warlord Traits, Tactical Objectives, Relics of the Fists and the Geokinesis discipline, defining the ways that the Imperial Fists wage war
And more!
You will need a copy of Codex: Space Marines and the Warhammer 40,000 rulebook to use the rules included in this codex supplement.
---
Delivery
Your order can be shipped to you at home or work, see shipping estimates at checkout.
In-store collection
Collection in store is available.