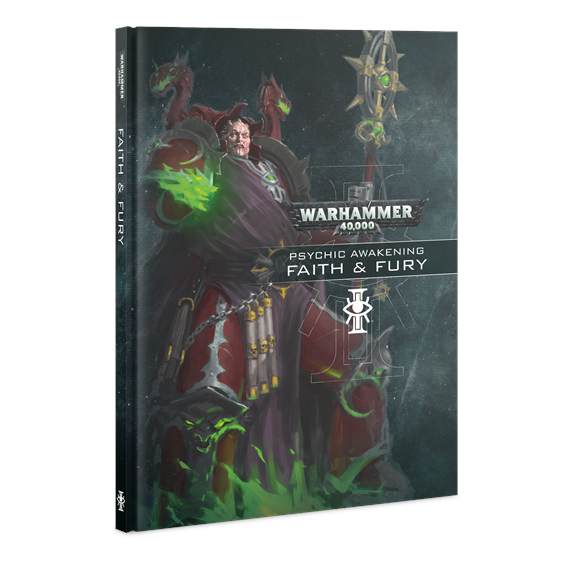 Psychic Awakening: Faith and Fury
---
40k Get Started
Inside this 96-page book, you'll find: Exciting background that describes how the time of the Great Rift found the Imperium… Read More
Availability: Sorry, out of stock
Features
Explore the next chapter of the Psychic Awakening
Unleash the righteous zeal of the Black Templars
Expand your Adeptus Astartes and Heretic Astartes armies with new rules content
Inside this 96-page book, you'll find:
Exciting background that describes how the time of the Great Rift found the Imperium reeling, assailed on a million fronts by the surging forces of Chaos. The Indomitus Crusade ventured deeper into occupied territory only to discover that the predations of the Great Enemy had intensified. The story then focuses on Talledus sub-sector – how the taint of Chaos had begun to take root there, lurking unnoticed for many years before the Great Rift enabled the Word Bearer fleets to make warp transit to the heart of the sub-sector.
Missions that allow you to recreate some of the most pivotal battles during the conflict, and war zones that let you bring your battles to some of the most distinctive sites that were fought over.
Expanded army rules for the Black Templars, including Warlord Traits, Stratagems, relics, Tactical Objectives and even a name generator for the legendary crusaders of Dorn!
Expanded army rules for the Adeptus Astartes, including Chapter-specific Litanies of Battle as well as upgrades to Chaplains, Techmarines, Librarians, Apothecaries, Ancients, and Company Champions, providing more in-depth rules for these Chapter heroes.
Expanded army rules for the Heretic Astartes, including Malicious Volleys, Daemon weapons, new Warlord Traits, Stratagems, relics, Tactical Objectives and name generators for each of the following Chaos Space Marine Legions: Word Bearers, Night Lords, Alpha Legion, Iron Warriors, Emperor's Children, and World Eaters.
---
Delivery
Your order can be shipped to you at home or work, see shipping estimates at checkout.
In-store collection
Collection in store is available.