Star Wars Legion
---
Battles in a galaxy far far away
Star Wars: Legion invites you to join the unsung battles of the Galactic Civil War as the commander of a unique army filled with troopers, powerful ground or repulsor vehicles, and iconic characters like Darth Vader or Luke Skywalker. While innovative mechanics simulate the fog of war and the chaos of battle, the unpainted, easily assembled miniatures give you a canvas to create the Star Wars army you've always wanted to lead into battle—whether you fight for the monolithic, oppressive Galactic Empire or the ragtag Rebel Alliance.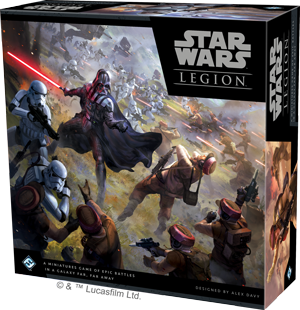 Sorry, nothing scheduled in for this game at the moment, check back soon.
Opening Times
Mon

day

12:00 - 21:00
Tue

sday

Closed
Wed

nesday

12:00 - 21:00
Thu

rsday

12:00 - 18:00
Fri

day

12:00 - 21:00
Sat

urday

11:00 - 18:00
Sun

day

12:00 - 17:00
We are currently only allowing 4 customers in our sales area at any time.
Gaming has returned with limited availability and social distancing restrictions in place. Please check our Book a Table area in the store.