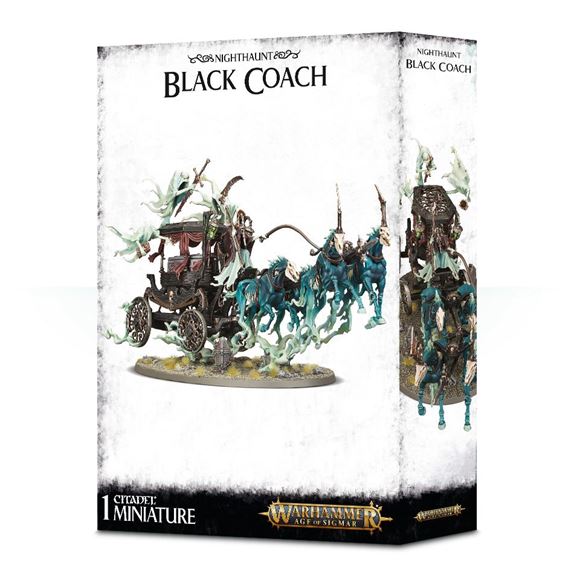 Black Coach
---
Nighthaunt
This multi-part plastic kit contains the components necessary to assemble a Black Coach. Constructed from heavy wooden panels with rivets… Read More
Availability: 5 Available for back order
Features
A macabre funerary carriage of the underworlds
Drawn by 4 Nightmares, driven by a Cairn Wraith, and holding ghastly secrets
Absorbs death magic, becoming ever more powerful with some drastic in-game effects!
This multi-part plastic kit contains the components necessary to assemble a Black Coach. Constructed from heavy wooden panels with rivets straining against the ethereal power within, this is a funerary carriage whose drapes are tied back, making a grisly casket within visible; this houses a bound vampire, who can be seen should you choose to model the casket with its lid off. The wheels are wrought from ornate iron – 2 small wheels at the front, 2 larger wheels at the back – with skulls and hourglasses representing death dotted symbolically around. 3 Relic Bearers are careening alongside the Coach, carrying a sword, book and goblet, the personal effects of the vampire being transported. A Cairn Wraith is driving the Coach forward, who can be modelled wearing either a hood or a crown – he can carry a soulreach grasp, a reaper scythe or be modelled with empty, gesturing hands. 4 Nightmares pull the Coach, borne aloft on wisps of ethereal energy – the 2 front Nightmares wear enormous spiked funeral crests.
This kit comes as 58 components, and is supplied with a Citadel 170mm Oval base.
---
Delivery
Your order can be shipped to you at home or work, see shipping estimates at checkout.
In-store collection
Collection in store is available.