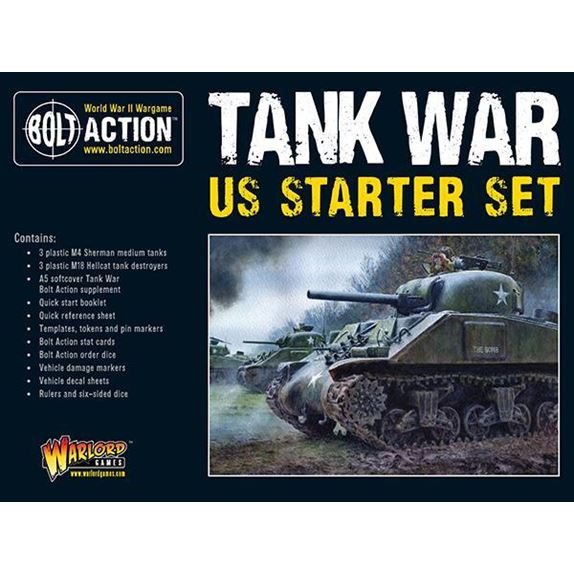 Tank War US starter set
---
United States
What used to be one of the most numerous tanks during the war, the M4 Sherman saw battle all over… Read More
Availability: Coming soon!
What used to be one of the most numerous tanks during the war, the M4 Sherman saw battle all over the world. Forming the main battle lines for the British, American and filling in Soviet gaps, the M4 Sherman created the standard that tanks needed to beat. Ahead of the front line, use the M18 Hellcat to scout ahead and outmanoeuvre your opponents.
This starter set is filled to the brim with content, here's the breakdown:
3 Plastic M4 Sherman medium tanks
3 Plastic M18 Hellcat tank destroyers
An A5 softcover Tank War Bolt Action supplement
A quick start booklet
A quick reference sheet
A set of templates, tokens and pin markers
Bolt Action Stat cards
6 Bolt Action order dice
A set of vehicle damage markers
Vehicle decal sheets
Rulers and six-sided dice
Plus Web Exclusive FREE mini A5 Bolt Action Rulebook
As typical of US doctrine, armoured divisions had a tank destroyer division attached alongside for long-term usage making this bundle ideal for those who choose to be historically accurate. This bundle also gives you a 1000+ point force, which is capable leading a direct assault or supporting the forward units, flexible for any situation on the battlefield.
The M4 Sherman
Be it the frontline, forward unit or supporting unit, the Sherman fits many roles in any army. The armament has the ability to take down a Panther tank from the front and has enough armour to shrug off one or two shots.
The M18 Hellcat

Being one of the few tanks within Bolt Action to have a heavy anti tank gun and the special rule recce, this makes the Hellcat a unique threat. It has the capability to deal with massive threats such as a Tiger or Panther, but the survivability to dodge returning fire.
Models supplied unassembled and unpainted
---
Delivery
Your order can be shipped to you at home or work, see shipping estimates at checkout.
In-store collection
Collection in store is available.