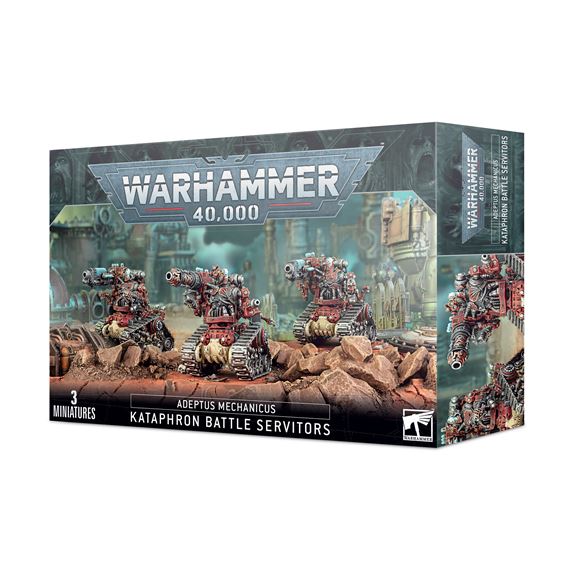 Kataphron Battle Servitors
---
Adeptus Mechanicus
These miniatures truly capture the techno-centric nature of the Adeptus Mechanicus; only half a head and a part of their… Read More
Availability: 5 Available for back order
Features
Fulfilling the role of living shield and battering ram
Used by Tech-Priests to smash apart enemy lines and fortifications on their insatiable quest for technology to assimilate
These miniatures truly capture the techno-centric nature of the Adeptus Mechanicus; only half a head and a part of their torso remains human. Included are three track assemblies(with optional armour and mud guards for Breachers), three sets of Breacher heads and torso armour, three interchangeable exhausts and a HUGE array of weapons: arc rifles, torsion cannons, arc claws, hydraulic claws, plasma culverin assemblies, heavy grav cannon assemblies, phosphor blaster assemblies and three cognis flamer assemblies. Twenty-four weapon options in total!
This multi-part plastic kit contains an impressive 157 components, with which you can make three Battle Servitors, either Kataphron Breachers or Kataphron Destroyers.
---
Delivery
Your order can be shipped to you at home or work, see shipping estimates at checkout.
In-store collection
Collection in store is available.