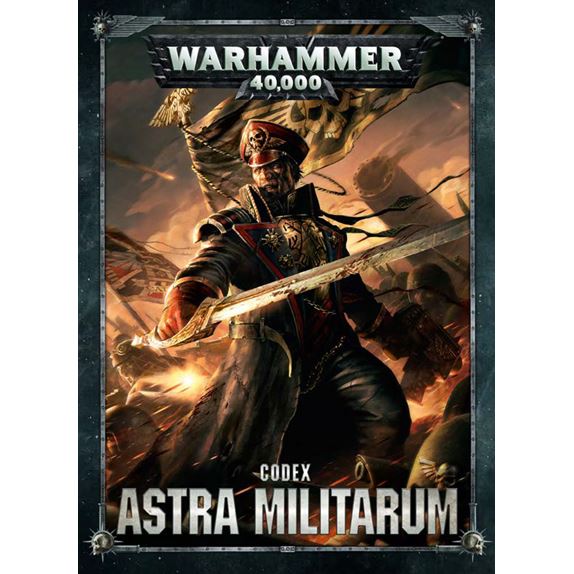 Codex: Astra Militarum
---
Astra Militarum
Everything you need to get an Astra Militarum army primed for games of Warhammer 40,000 is in here: 56 datasheets… Read More
Availability: 5 Available for back order
Features
The definitive book for Astra Militarum collectors
56 datasheets covering the Astra Militarum range
Stratagems, Warlord Traits, unique artefacts and more
Everything you need to get an Astra Militarum army primed for games of Warhammer 40,000 is in here:
56 datasheets containing rules for every Astra Militarum unit and vehicle;
Army abilities reflecting the Astra Militarum's methods of war, including Astra Militarum Orders and Regimental Orders;
Armoury of the Imperium: wargear both ranged and close-combat used by the Astra Militarum;
Points values for all miniatures, weapons and wargear for use in Matched Play games;
Bulwark of Humanity: rules for Battle-forged armies:
Regimental Doctrines for Cadian, Catachan, Valhallan, Vostroyan, Armageddon, Tallarn, Mordian, Militarum Tempestus Regiments;
6 unique Warlord Traits,
25 Stratagems, with 8 specific to the Regiments named above;
the Heirlooms of Conquest: a selection of rare wargear;
The Psykana psychic discipline, available to any Astra Militarum model with the Psyker keyword,
6 Warlord Traits for use by any Warlord, with a further specific to the above-named Regiments;
6 unique Tactical Objectives.
---
Delivery
Your order can be shipped to you at home or work, see shipping estimates at checkout.
In-store collection
Collection in store is available.