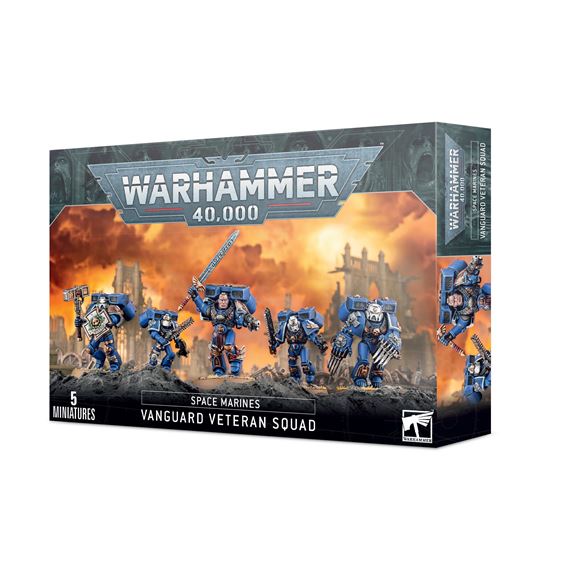 Vanguard Veteran Squad
---
Space Marines
This plastic kit contains 98 components with which to make a 5 man Space Marine Vanguard Veteran Squad (and so… Read More
Availability: 5 Available for back order
Features
Deployed as fast-moving rapid-response forces, Space Marine Vanguard Veterans are close-combat specialists
Depending on how they are assembled, this box set can make hundreds of varieties of Vanguard Veterans
This plastic kit contains 98 components with which to make a 5 man Space Marine Vanguard Veteran Squad (and so much more!).
When building the squad there are 5 different sets of running legs; 5 unique torso fronts; 16 different shoulder pads; 9 heads (8 helmeted, 1 bare); and 5 individual jump packs;
Every member of the squad can be armed with either chainsword and bolt pistol (each individual weapon bears a unique design); there are 4 sets of lightning claws; 4 pairs of thunder hammer and storm shield. The Sergeant has choice of relic blade, power sword, power fist or power axe; and there is also a grav pistol; a plasma pistol; a melta bomb; and a selection of frag and krak grenades.
---
Delivery
Your order can be shipped to you at home or work, see shipping estimates at checkout.
In-store collection
Collection in store is available.