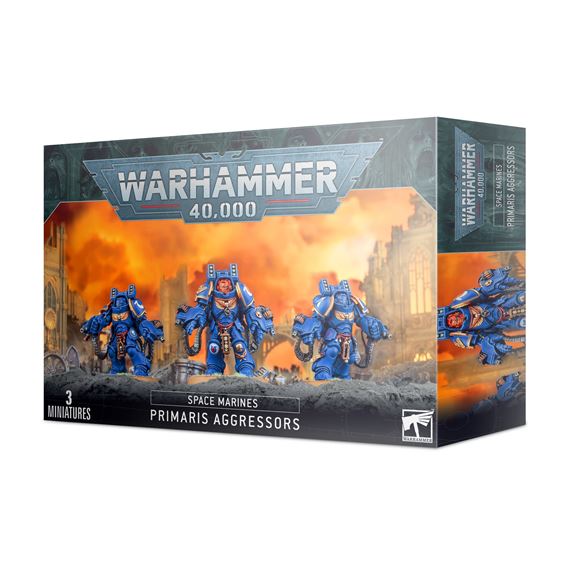 Primaris Aggressors
---
Space Marines
This multi-part plastic kit contains the components necessary to assemble a 3-man Primaris Aggressor Squad. Extremely heavily armoured, their silhouette… Read More
Availability: Last one! but 5 Available for back order
Features
Aggressor Squads advance on the foe as walking fortresses of ceramite
Aggressor Squads are used as reserves to plug breaches in gun lines or to spearhead an advance
This multi-part plastic kit contains the components necessary to assemble a 3-man Primaris Aggressor Squad. Extremely heavily armoured, their silhouette is wider and chunkier than most Primaris Space Marines, due in no small part to the choice of auto boltstorm gauntlets or flamestorm gauntlets. There are three sets of each, with every weapon featuring pipes or belts that are fed from the enormous backpack. One set of flamestorm gauntlets features retracted barrels, as in close combat fists speak louder than flames… Should you choose the boltstorm gauntlets, the Aggressors can also take a fragstorm grenade launcher.
The Primaris Aggressors come as 107 components, and are supplied with 3 Citadel 40mm Round bases.
---
Delivery
Your order can be shipped to you at home or work, see shipping estimates at checkout.
In-store collection
Collection in store is available.