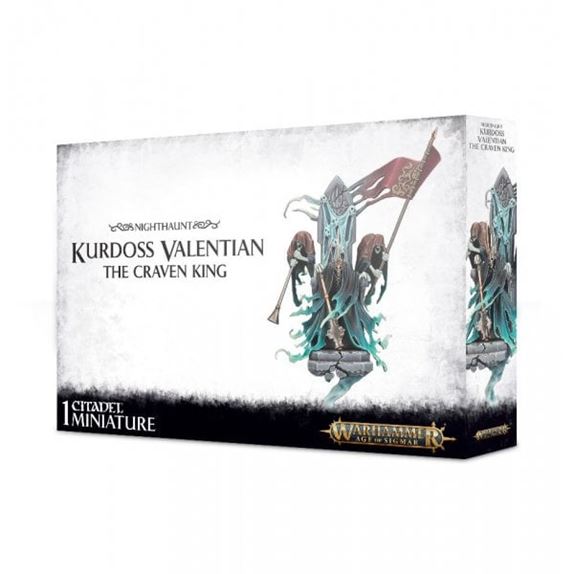 Kurdoss Valentian the Craven King
---
Nighthaunt
This multi-part plastic kit contains the components necessary to assemble Kurdoss Valentian, the Craven King. Seated silent and unmoving on… Read More
Availability: 5 Available for back order
Features
A macabre funerary carriage of the underworlds
Drawn by 4 Nightmares, driven by a Cairn Wraith, and holding ghastly secrets
Absorbs death magic, becoming ever more powerful with some drastic in-game effects!
This multi-part plastic kit contains the components necessary to assemble Kurdoss Valentian, the Craven King. Seated silent and unmoving on his cracked, crumbling throne, Kurdoss is a hunched, slumped figure who nonetheless exudes an aura of pure menace, with his sinister, 3-pointed crown entirely enclosing his face in a skull-like mask. One hand clutches the arm of his throne, while the other holds the Sepulchral Sceptre – far from an ornate, bejeweled ceremonial staff, this is a solid weapon designed to crack open the skulls of those who rouse Kurdoss' fury. Flanking him on either side are his accompanying Wraith Heralds, who are bound to him eternally – one as a banner-bearer, the other carrying a trumpet. The twisted forms of tormented souls rise high above Kurdoss, and the whole miniature is borne aloft on a swirling column of ethereal energy which attaches to the base.
This kit comes as 19 components, and is supplied with a Citadel 60mm Round base.
---
Delivery
Your order can be shipped to you at home or work, see shipping estimates at checkout.
In-store collection
Collection in store is available.