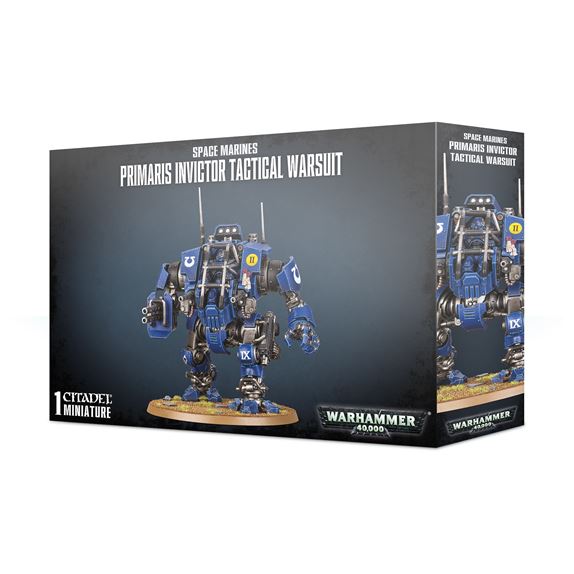 Primaris Invictor Tactical Warsuit
---
Space Marines
Like many of the Primaris Vanguard units, an Invictor Tactical Warsuit has the ability to deploy in a concealed position… Read More
Availability: Coming soon!
Features
An Elites choice for any Adeptus Astartes Faction
Able to deploy in a concealed position outside of your deployment zone
Can fire its heavy bolter as a Pistol at point-blank range!
Like many of the Primaris Vanguard units, an Invictor Tactical Warsuit has the ability to deploy in a concealed position outside of your own deployment zone, giving it a unique advantage over any Dreadnought-class vehicle in the Space Marines armoury. It has a potent choice of weaponry – if it's ranged fire support you're after, its twin ironhail autocannon has you covered; if you're looking to engage the enemy up close and personal, it can instead be armed with an incendium cannon. It also carries a heavy bolter that it can wield as a pistol to fire at point-blank range in melee, even as it crushes enemies with its formidable Invictor fist.
This multipart plastic model comes in 116 components and is supplied with a Citadel 90mm Round Base and an Ultramarines Vehicle Transfer Sheet. You'll find the full rules for the Invictor Tactical Warsuit in Codex: Space Marines. The Invictor Tactical Warsuit can also be used in Dark Angels, Space Wolves and Blood Angels armies
---
Delivery
Your order can be shipped to you at home or work, see shipping estimates at checkout.
In-store collection
Collection in store is available.