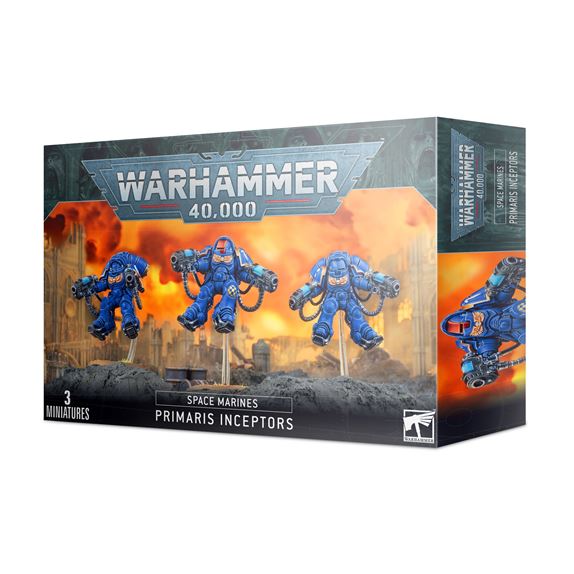 Primaris Inceptors
---
Space Marines
This multi-part plastic kit contains the components necessary to assemble a set of 3 Primaris Inceptors. Clad in Mk X… Read More
Availability: 5 Available for back order
Features
Inceptors fill the role of spearhead troops
Equipped with jump packs and reinforced armour
This multi-part plastic kit contains the components necessary to assemble a set of 3 Primaris Inceptors. Clad in Mk X power armour featuring a bulky jump pack – thrust-vectoring rocket engines mounted on the Space Marine's back, enabling fast, bounding leaps to close on the foe at dizzying speed – they present a unique, easily recognisable silhouette. The jump pack itself and the blast shield cowl that protects the Inceptors' heads from the immense heat of the pack's rockets dominate the miniature, with posable fins, shock-absorbing devices attached to the boots and extra cabling and vents unique to this kit. The Inceptors can be armed with either 2 plasma exterminators each or 2 assault bolters each – the plasma exterminators are heavily shielded to provide protection against heat discharge and the assault bolters feature distinctive box magazines.
The Primaris Inceptors come as 117 components, and are supplied with 3 Citadel 40mm Round bases, 3 45mm flying stems and an Ultramarines Infantry Transfer Sheet.
---
Delivery
Your order can be shipped to you at home or work, see shipping estimates at checkout.
In-store collection
Collection in store is available.